In this post we will look at production of the cut-scenes for Shadow Puppeteer. It is written by Klas.
During the time on the Shadow Puppeteer I have been working on many different tasks concerning the graphics and animations through the game engine in real time. After a while you understand the benefits, but also the drawbacks of working in a game engine.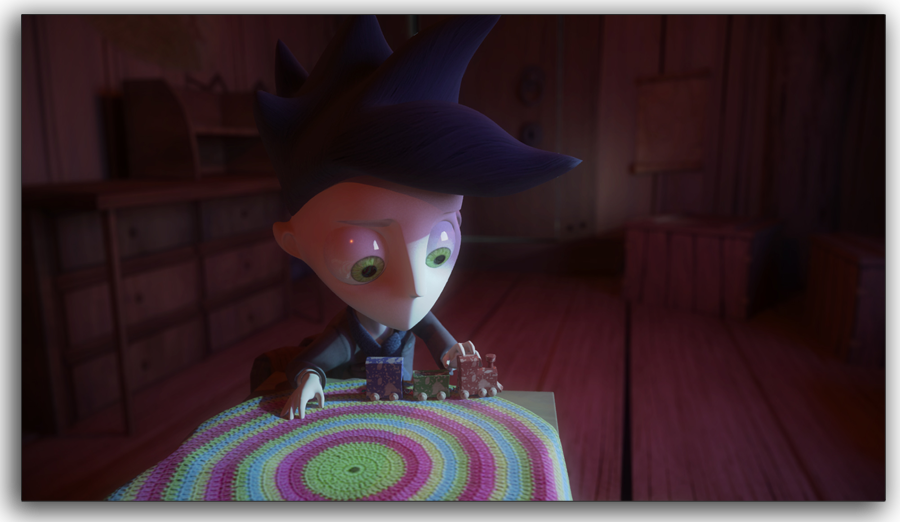 When the time came to start working on the pre-rendered cut-scenes and intro, I was ecstatic about finally having the freedom to apply greater detail, render in passes and add effects in post process.
I were also seduced by the fact that you don't have to go through exporting, worrying about how the engine interprets your rigs, animations and scale.
So straight forward, so much freedom. Heaven.
I had however completely forgotten the fact that the scenes had to be set up from an export of the game engine, with loads of split polygons and a level of detail that wouldn't really work as well in a film format. Also, all those materials, and textures had to be set up for render.
There are drawbacks. But it's all worth it when you start getting results. Let's look at the process.
The first step of the process after setting up the scene is animating. The animations are then rendered as previews, which are basically very fast screen captures of the animation inside the 3D software. This way you can do a rough clipping in for the film to see if the scenes and animation work.
Once everything looks good in the editing software as well as materials, lighting, models and test renders in the 3D software, the final rendering can start. In this project there is 3 passes done; the beauty pass is the lighting, textures and shading. All that makes a picture. The depth pass is a pass that lets us configure camera focus in post processing. And last we have the effects pass. For the effects, like particles and the shadow characters in the game, so that they can be edited separately.
Once the scene is rendered, it is composited together in the editing software, and effects are applied to each pass.
Then the previews from earlier are changed out with the final renders, and presto! Only the touch ups and final cuts left.